Longboard-Sessions.co.uk
Find UK sessions, chat to other skaters, get involved in the forum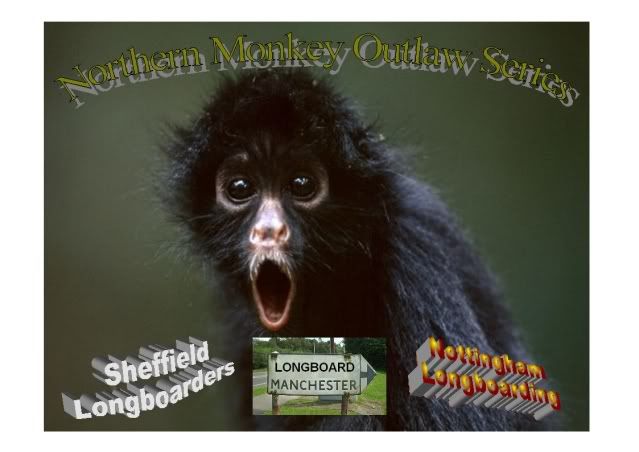 The Northern Monkey Outlaw series is coming for 2011!! Get ready! Check the sessions page or the forum for more details!!
JON BRAUND IS YOUR 2010 UK OUTLAW LEAGUE CHAMPION!! MORE RACING AND MORE PODIUMS THAN ANYONE ELSE! KILLING IT FOR THE BOMO CARVE CREW!!

2nd PLACE GOES TO FILTHY BANDITO JOHN GRIFFITHS!! SLAYER OF HILLS!!

IN 3rd PODIUM POSITION ANOTHER MIGHTY BOMO RIDER BEN ALLEN!! WHO CAN STOP THIS SOUTH COAST DOMINATION!!!?!?

Photo: John Griffiths
COMPETITION TIME! In conjuntion with the mighty Longboard:Source we give you Tanking in a Tache 2010!
You have until the end of "Movember", so get growing!
Photo by Toby Gardener
Prime Delux throwing you another sick outlaw in the South West!! SKATE AND DIE!

Aaron destroys the other racers and takes the win at the Sheepy Welsh Outlaw!! Banditos!!

JJ destroys the competition at the UK slide AMs and takes your money!!
Photo: Toby Gardener
The UK pro tour is here!! Sergio Yuppie and the family slide! Get yourself to one of the tour jams on the sessions page NOW!!
Photo by Nick Murray
Yup, Psyche Hill kills wheels! Great weekend of skating in Bristol!!!
Photo by Rich Auden
JAMIE THARP SLAYS DRAGONS WITH SLIDING. MANUALED SCISSORS SLIDE! CHEERS FOR HOOKING UP YET ANOTHER SICK GREENWICH SLIDE JAM DUDE!!!
Photo by Ben roberts
GREENWICH CLASSIC SLIDE JAM!! 2 RIOT VANS! CARNAGE! FLAT SPOTS! THE GREENWICH SKATERS KNOW HOW TO SHOW YOU A GOOD TIME, CHEERS GUYS!!

Video by Knighty!!
EXETER WAS SICK! SMASHED UP BODIES EVERYWHERE BUT NOBODY'S DEAD WOO!!!
CHEERS FOR THE CARNAGE JJ!!
KNOCKHILL FREERIDE WENT OFF!! GNARLY SCOTTISH McSKATING!!

Photo: Mark 'Hat' Symes
SERGIO AND FERNANDO YUPPIE TOUR THE UK 2010!!!!! COME OUT AND SHRED WITH THEM!!!

Artwork: Mark Short!! YOW!!
Prime Delux laid down a sick nasty outlaw in Plymouth!! YEAAH
Photo: Jo 'killa' Coles
COME SHRED SOME SKIN!!!! NO CARS!!!
PRIME DELUX OUTLAW!! FEEL THE WRATH!!
YOU'VE BEEN BOPEEPED!!! GNARLY OUTLAW RACE 50MPH AND DEADLY CORNERS!!! YEAAAH!!!
24 hours round the top gear track for charity! We raised over £13,000, woohoo!
HOG HILL OUTLAW CHAMPIONSHIPS 31st May - 1st June, SIGN UP NOW!
Racing! 25 man hill bombs! MariGNAR WAS SICK NASTY!!! Thanks for coming out!!
MariGNAR outlaw race is coming! Her's some teaser footage from a SLOW day, when we had mad uphill winds!
WIN A LUSH KISIWA! Make a fun skate video, post it in our forum and email a link to Lush longboards to WIN! More details in the forum here.
Thanet Dog Town crew members getting ready to shred some GARAGE! Winter skating is GNAR! Photo: Paul "Grizbee" Knowles, Kents OG skateboarder!
Remember summer when it wasn't covered in snow? Here's some sick on board footage of the Greenwich summer series by Jamie! YEAH
Find UK longboard sessions in YOUR area

Get details of local sessions mailed directly to your inbox. Integrated with Google Maps to only bring back sessions relevent to YOU.

Find UK longboard skaters in YOUR area

Check the skaters page to see who's skating near you. There might be a huge crew only one town over!

Find UK longboard events and races.

We provide updates on the UK scene, outlaw races and freerides. Get involved!

Come skate with us

Downhill speedboarding, technical sliding, long distance, slalom, cruising, carving, we do it all!